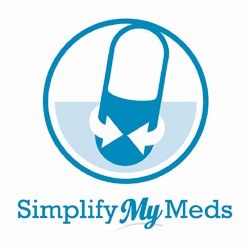 Do you make multiple trips to the pharmacy each month? How many times have you gone to the pharmacy for a refill to find out that you are out of refills on your prescription or the pharmacy is out of your medication? Wouldn't it be nice to be able to make one trip to the pharmacy each month and get ALL of your refills with NONE of the unexpected headaches?
Thats what the Simplify My Meds Program is all about!
Simplify My Meds is a refill coordination program whereby we coordinate all your monthly refills to one day each month. Imagine instead of making several trips to the pharmacy each month you only make one trip and your done!
Using this program we call you approximately one week before your refills are due and go over your medicines to make sure there have been no changes. Then we check to see that there are refills for all your meds and if not we will contact your doctor to obtain refills. If there are any problems during this time we will contact you with instructions on what you need to do. Then on the designated day we will fill your prescriptions and when they are ready we will call you to let you know they are ready to be picked up.
Its as simple as that! We take all the stress out of the refill process, you make one trip a month to the pharmacy. You save time, gas and frustration!
So come by our pharmacy today and let us Simplify Your Life!