Now Available!
We now offer a LOW COST alternative to Viagra® Tablets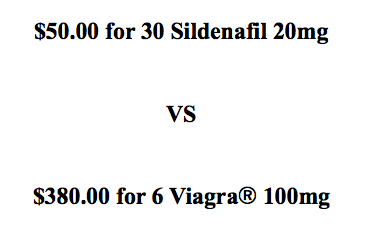 Sildenafil 20mg is the FDA approved generic for Revatio® 20mg tablet, the same active ingredient for Viagra® only in a different strength. The FDA has not approved generic Viagra®, even though the active ingredient is identical, just in a different strength.
Shipping is FREE to any postal address in Arkansas. We cannot ship outside the state of Arkansas at this time.
Shipping Policy: All packages are shipped US Mail with tracking using the United States Postal Service (USPS), with tracking available to the point of delivery. We do not require a signature for delivery and any package marked "delivered" by the USPS is considered a successful delivery. We are NOT responsible for packages that have been lost or stolen after they have been successfully delivered. If your package has been lost, we can provide the tracking number upon request. All lost or stolen packages should be addressed by the customer at their local US Post Office.
For more information please call (479) 968-7180 or Toll Free (844) 331-2759
Click Below for a Printable Form